Outback
Outback
PLEASE NOTE All store prices are in US$
The very first of Paul's books set in the Australian countryside, Outback offers a voyeuristic insight into male physicality and camaraderie, strength and vulnerability, in a rough and tough environment.
A very limited number of Hand Signed books are now available for sale via our online store.
Alternatively you can purchase Outback using one of the links below
Buy from Amazon | Buy from Book Depository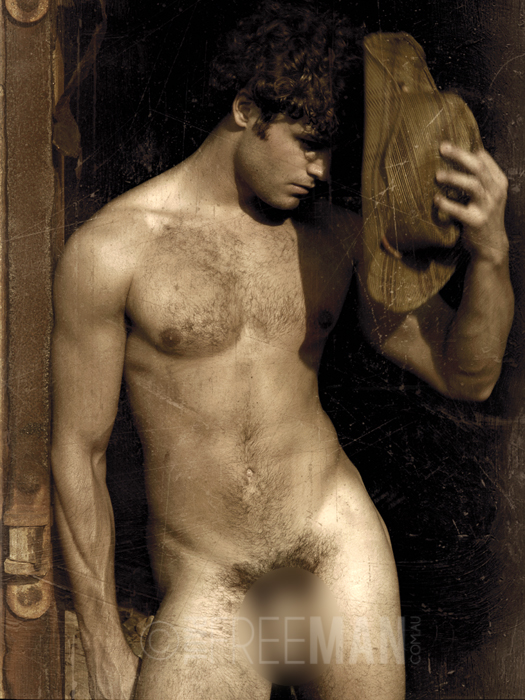 Outback (2008)
"I think it's brilliant. I'm quite moved by the images. I was born in the wheat belt of Western Australia so a lot of those shearing sheds and shearers huts are familiar to me; the red dust, the sheep dog, the old utes. The shoots are really well integrated– some very clever images (the impressionist shot through the muddy windscreen) and some hot guys. But mostly, it's so evocative. I hope Paul is proud of it. It's great work!.. I think he's taken it to another level and I don't think anyone's done anything like it!" ( Andrew Creagh, Editor DNA Magazine September 2008)
This first part of a new series by Paul Freeman is set far away from Bondi's shores under a mighty Australian sky on a vast property filled with drovers, farm-hands shearers and cowboys, working and at play.
This extraordinary body of work, set in a variously tough and gorgeously coloured landscape, often evokes Australia's pioneering past with sepia toning, ageing of images and a carefully controlled color palette of muted burnt yellows and reds reminiscent both of nineteenth century Australian impressionism and of early hand-painted photos. The collection has a 'boys own adventure' feel which those annual compendiums of ripping yarns might have had in the 1920's and '30s. The qualities displayed by the men on these pages were as current a hundred years ago as they are now. Even the more obviously contemporary images are nostalgic, shot as they are in and around weathered timber farm buildings and parched fields littered with rusted old vehicles. Everything is worn but staunch and durable complimenting and contrasting the wonderfully varied and astounding array of manhood portrayed.
Outback , published September 2008, hardbound with dust jacket, 204 pages , 13×10″, 200 photographs